What is a Serum/Cream?
Description
Ingredients
How To Use
All The Potency Of A Serum With The Moisturizing Effects Of A Cream
BirchTech Hybrid™ was originally designed as a serum/cream hybrid to nourish, supplement and give women everywhere the best skin they could get with ease.

When we removed all the filler-water, we were left with a lot of space to add MORE potent actives that helped with skin sagging, hyperpigmentation & wrinkles while still keeping the moisturization, hydration & nourishment benefits of a cream.

This combination gave BirchTech Hybrid™ a potent multifunction power that provided many benefits and solved so many skin challenges at the same time. And as a result our formula took on a life of its own, and truly became an all-in-one product.

More common FAQ can be found here.
The Full Spectrum Of Skin Essentials In One Quick & Easy Product
With menopause comes a steep drop in the production of collagen, hormones & nutrients that keep the skin looking healthy, vital & youthful. This sudden loss of hormones and nutrients leads to a visible change in the skin's appearance for many women- ...and the shock & distress of looking into the mirror one day and feeling like you've aged overnight.

Every woman wants to look good and be accepted, but the grace & feminine beauty of a maturing woman can quickly become unseen and undervalued by society.

It shouldn't be like this!

The changes of menopause are all completely normal and none of them are your fault. That's why there's nothing wrong with wanting your skin to look it's best as you age, or giving it the nutrients and products it needs to be healthy and vital.

At Noomi Stockholm, we believe women do not need complicated routines to do this. There's no need to invest in a plethora of weak, watered-down products that do different things, when you can get all of them... and more inside ONE highly potent serum/cream.

Unlike most brands, we believe every single ingredient in skincare products should be nutritious and beneficial for the skin. So we eliminated all fillers (including water) from our formula, substituting it with an active base of 55% Swedish BirchSap. This makes sure 100% of our product contains only the potent, active ingredients your skin needs to:

Firm up sagging skin & reduce fine lines and wrinkles
Smooten, soften and hydrate your skin's surface
Fade age spots and hyperpigmentation
Brighten your skin for that wonderfully radiant glow
While keeping it protected, looking healthier & more vital every day.
And that you get to experience all of these benefits with ONLY ONE easy to use product.
"A Scandinavian Extract Cocktail For Your Skin's Health & Vitality"
BirchTech Hybrid™ works so effectively thanks to Swedish Birch Sap.

A rare Nordic ingredient— wild harvested ONLY once a year— that serves as the potent base of our unique formula.

It is rich in antioxidants, vitamins, minerals, amino acids as well as a host of enzymes that help to strengthen & repair your skin while fighting inflammation.

And with significantly smaller molecules than water, Birch Sap penetrates faster and deeper into your skin delivering all the active ingredients exactly where they need to be, in the right amounts.

Some of these powerful active ingredients include:
0.5% Microencapsulated Retinol - By using small sugar shells that encapsulate the retinol, our formulation gives you the firming and collagen boosting benefits of retinol without the redness and irritation. Our time-release retinol in BirchSap is able to penetrate the skin slower than it would with water, releasing just enough retinol into your skin at timed intervals to stimulate production of collagen without redness or irritation.
8% Artic Brightening Complex - This complex of Vitamin C and infused Swedish Roseroot work in synergy to lighten age spots and fade even some of the most stubborn hyperpigmentation for a clear and bright complexion as your skin matures.
2% Hyaluronic Acid - which has high potency in mixed forms. It intensely hydrates and plumps skin with a long-lasting effect.
Wild Swedish Sea Buckthorn - Restores elasticity and tone of aging skin. Deeply hydrates and plumps, while helping the skin to maintain optimum moisture.
Wild Swedish Cloudberry - This Omega rich extract protects and helps to rebuild the barrier to help keep skin hydrated, plumped and healthy-looking with free-radical scavenging antioxidants.
Wild Swedish Lingonberry - Quickly improves hydration & tone with anti-pollution protection. It neutralizes stress-inducing free radicals, pollution, and smoke thanks to its high concentration of antioxidants.
Wild Swedish Chaga - As one of the strongest Antioxidants available today, it gives natural, potent protection against free radical stress & environmental damage. Protects against blue light damage caused by screens and detoxifies skin overnight.
Organic Avocado Oil - For protecting against environmental damage while softening and nourishes the skin, and helps skin lock in essential hydration.
Organic Oat Oil - Being high in essential fatty acids and phospholipids, it nourishes and soothes mature sensitive skin.
Organic Olive Oil - Naturally rich in Vitamins A, D, K and E + Squalene it moisturizes dry skin, protects against premature aging and manages sun damage.
All Ingredients
Betula bendula sap, Avena sativa kernel oil, Glycerine, Olea europa (olive) fruit oil, Butyrospermum, Rhodiola Rosea root extract, Inonotus obliquus extract, Parkii butter, Caprylic/capric triglycerides, Diheptyl succinate, Cetearyl olivate, Sorbitan oleate, Rubus Chamaemorus fruit extract, Rosa canina flower extract, Cetyl alcohol, Stearic acid, Persea gratissima oil, Sodium Hyaluronate, Hippophae Rhamnoides seed oil, Anthemis nobilis flower oil, Xanthan gum, Capryloyl glycerin/sebacic acid copolymer, Tocopherol, Retinol, Ascorbic acid, Vaccinium Vitis ideae fruit extract, Sodium benzoate, Potassium sorbate.
With BirchTech Hybrid™ you can apply everything you need in just a couple of seconds.
Our formula simplifies your routine and helps you achieve the best skin of your life easier, faster and more effectively.

Simply apply 1-2 pumps to the face and neck after cleansing before bedtime. No additional products are needed. For daytime, we recommend following with a broad-spectrum sunscreen rated SPF 20 or greater.

We recommend that first-time retinol users gradually introduce the product into their regime. Limit initial usage to 3 times a week, and gradually increase frequency to every other night, and then every night as tolerated.


Tested to work on all skin types and tones.
Handmade with clean, natural ingredients in Small fresh batches
All-in-one treatment streamline nighttime routines
Non-irritating, time-released Retinol
100% free from fillers to maximize potency & ingredient absorption
100% Natural & Wild-harvested. Vegan & Cruelty-free certified
Free from Gluten & Soy
100% Sustainably & Ethically Derived
Made in small fresh batches only
What to Expect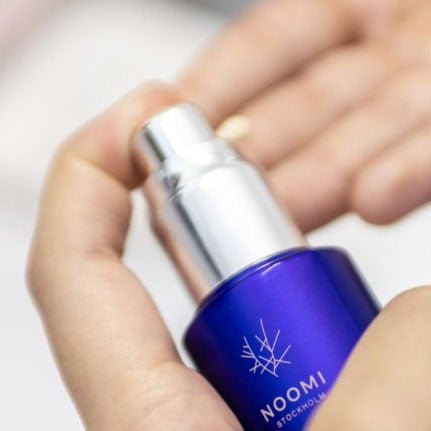 After
One Pump
This light-weight formula is quickly absorbed into the skin, leaving it silky-soft, smooth and plumped with hydration.
24-hour hydration support
Skin looks well-rested with a new radiance in the morning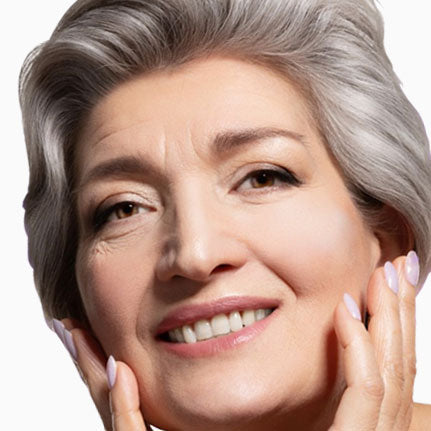 After
Four Weeks
Hyperpigmentation and age spots have faded.
Fine lines are reduced.
Skin barrier is strengthened and can better withstand the negative effects of environmental stress and water loss.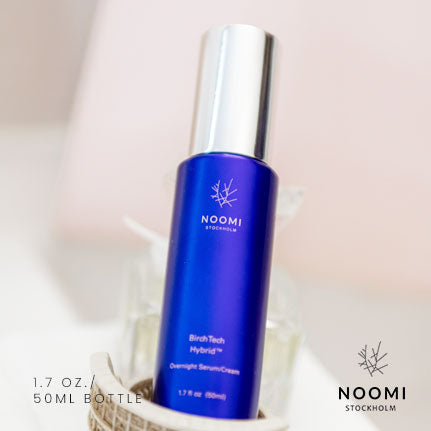 After
One Bottle
Skin feels and looks fuller, and more firm.
Skin texture is smooth and clear with less discoloration
Skin looks Healthy, and its natural bounce and vitality is restored.
One Step to Overnight Renewal
Positively Glowing: 5 Radiant Women Reveal The Noomi Difference
Zero-Water Innovation
Formulated With 55% Nordic Birch Sap
Water-free formulation helps maximize potency & ingredient absorption
Nordic Birch Sap is a known natural anti-inflammatory
Envelops skin in a calming elixir, allowing the potent actives to deliver high-efficacy performance in a gentle, non-irritating environment
Organic Roots
Organic sap tapped directly from birch tree roots where it fuels growth of new leaves after harsh winters.
Super nutrient-rich, containing 55 components like antioxidants, vitamins, amino acids, organic acids and enzymes.
Truffle cream is effective
The cream smoothed out the wrinkles under my eyes and I felt better knowing it was natural and not chemical filled. Even after sweating, I fell it was still beneficial to my skin, where as other products burn after sweating.