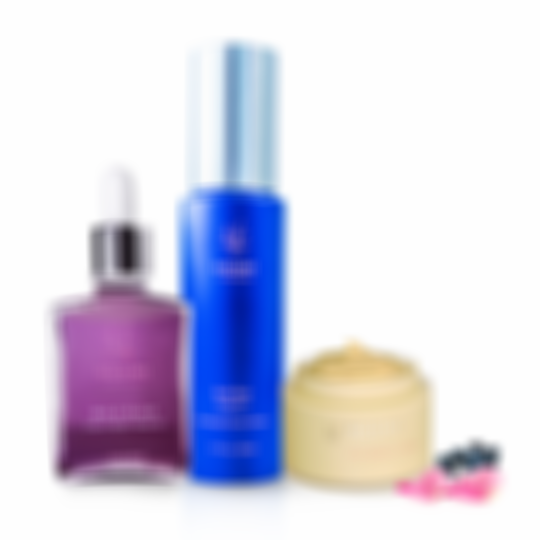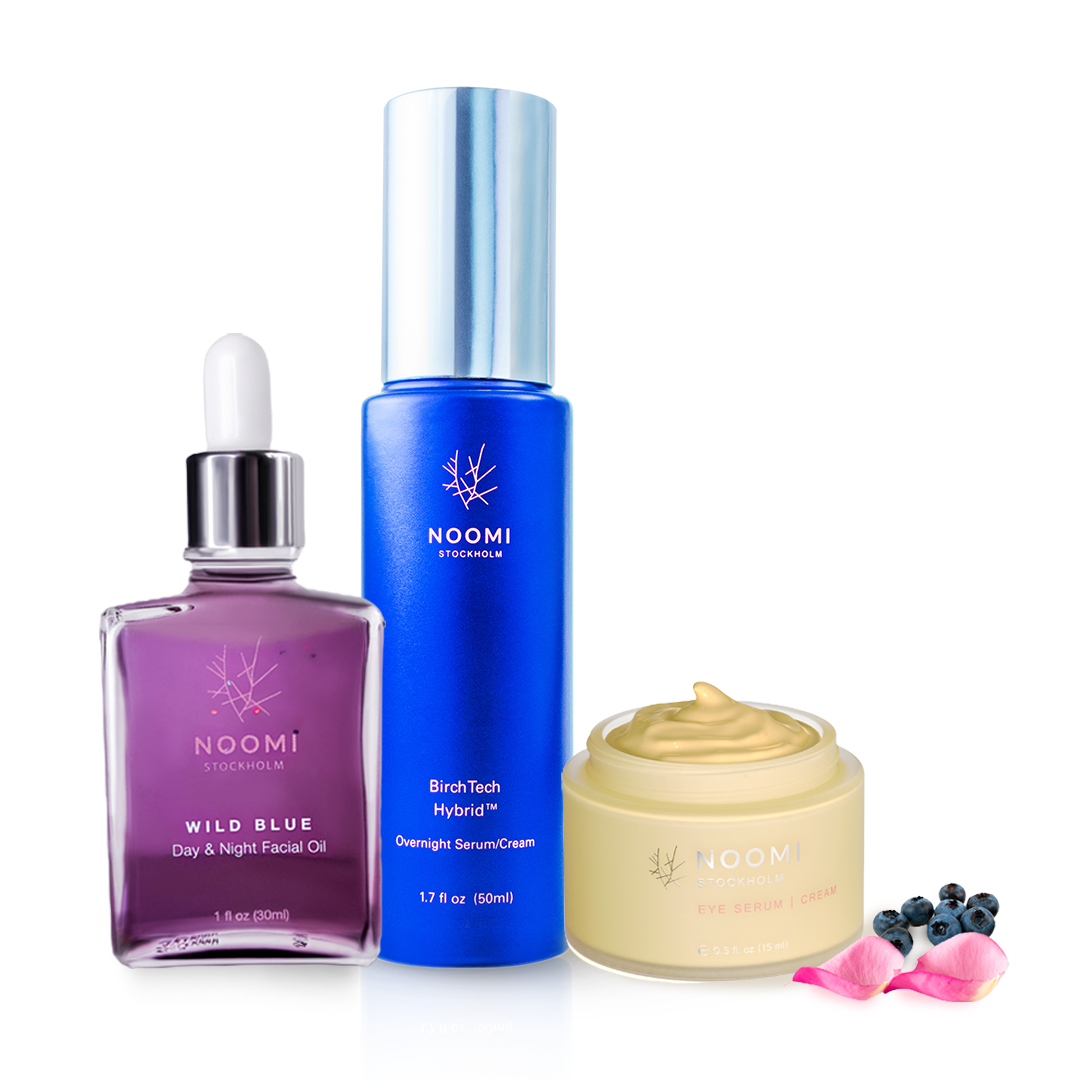 Natural Skincare Set - Mature Skin
Our three bestselling products in a special set just for your mature skin.
Our handmade nordic skincare set includes the most essential skincare products for mature skin: all-in-one eye care, firming night treatment and a nourishing 24h blueberry elixir.
Set includes: BirchTech Hybrid Serum/Cream , Eye Serum/Cream, Wild Blue facial oil (all rated 5-stars buy our customers).
& Free Express Delivery in the USA
You Save 30% when buying this set instead of individual items.
100% No-Risk Money Back Guarantee

Our three bestselling products in a special set just for your mature skin.
Our handmade nordic skincare set includes the most essential skincare products for mature skin: all-in-one eye care, firming night treatment and a nourishing 24h blueberry elixir.
Set includes: BirchTech Hybrid Serum/Cream , Eye Serum/Cream, Wild Blue facial oil (all rated 5-stars buy our customers).
Evening: After cleansing and toner (if applicable) pat a small amount of the eye serum/cream around the eye area including the brow bone. Do not use it directly on the eyelids or too close to the waterline to avoid getting the product into your eyes. Then apply BirchTech Hybrid to the rest of the facial skin including your neck and décolletage. Wait for around 30s-1min and take a few drops of the blueberry oil. Apply it to your entire face and neck as a last step in your routine to lock in moisture and hydration overnight.
Morning: Clean skin with a splash of cool water. Apply the Eye serum/cream again as instructed above. For a wonderful cooling effect store the eye product in the fridge overnight. Then apply the blueberry oil to protect your skin against daily pollution and blue light damage from screens. Finish the routine with a full-spectrum sunscreen to protect against UV rays (SPF 30-50).
Ingredients are sustainably Harvested in our local forests in Sweden without harming the biodiversity according to Fair Trade Principles. 100% of ingredients are coming from natural sources. 
FULL INGREDIENT LISTS:
100% nordic blueberries. Nothing else. Each bottle of Wild Blue contains over 200 cold-pressed nordic blueberry seeds. Blueberry harvest begins in early June and runs through the end of September. We only harvest berries in their mature state when the antioxidant content is high. The Swedish blueberry is super nutrient dense due to the ever-changing seasons. The natural elixir, therefore, has a light purple shade due to its high anthocyanin (antioxidant) content. All berries are handpicked in organic-certified forests in the Nordic forests according to fair trade principles. 
Nordic Organic Rose Hydrosol, Organic Aloe Leaf Extract, Propanediol, Glycerin (humectant), DMAE Bitartrate, Organic Emulsifying Wax, Meadowfoam Seed Oil, Vitamin E, Sunflower Seed Oil, Vitamin C (ascorbic acid), Phenoxyethanol (stabilizer), Organic Sugar Cane Extract, (Organic Truffle in truffle infused version only) Organic Bilberry Fruit Extract, Organic Sugar Maple Extract, Organic Orange Peel Extract, Organic Lemon Peel Extract, Organic Cranberry Fruit Extract, Carrot Seed Oil, Provitamin A, Vitamin A Ester, Coenzyme Q10, Alpha Lipoic Acid, Provitamin B5, Vitamin B3, Lecithin, Organic Alcohol, Xanthan Gum, Tetrasodium Glutamate Diacetate
BirchTech Hybrid Serum/Cream (50ml):
Betula bendula sap (birch sap), Avena sativa kernel oil (oat), Glycerine (natural humectant), Olea europa (olive) fruit oil, Butyrospermum (Shea butter), Rhodiola Rosea (Rose) root extract, Inonotus obliquus extract (Chaga), Parkii butter, Caprylic/capric triglycerides (Organic emollient), Diheptyl succinate(Organic emollient), Cetearyl olivate (Organic emulsifier), Sorbitan oleate (Organic emulsifier), Rubus Chamaemorus fruit extract (Cloudberry), Rosa canina (Rose) flower extract, Cetyl alcohol (natural emollient), Stearic acid, Persea gratissima (Avocado) oil, Sodium Hyaluronate, Hippophae Rhamnoides seed oil (Sea buckthorn), Anthemis nobilis flower oil (Chamomile), Xanthan gum (Natural stabilizer), Capryloyl glycerin/sebacic acid copolymer, Tocopherol (Vitamin E), Retinol, Ascorbic acid, Vaccinium Vitis ideae fruit extract (Lingonberry), Sodium benzoate, Potassium sorbate.
Suitable for all skin types, but formulated especially for mature skin. 

All 3 products has super silky, soft texture and finish to avoid clogging pores.

Earthy and sweet, subtle scent of freshly picked nordic ingredients (no perfume)

Naturally and beautifully colored by ingredients (no colorants)

Not tested on animals

Vegan

No added gluten

100% naturally derived

No added parabens

Free from water, fillers & additives. 

Handmade in small fresh batches in Sweden.
Your new natural routine for mature skin, in three steps
FRESHLY MADE SKINCARE FROM THE NORDIC NATURE WITH SUSTAINABLY SOURCED INGREDIENTS.
Use these three multitasking natural products for a full-spectrum approach for mature skin. All of them are jam-packed with wild-harvested berries and plants from the nordic nature to firm, nourish and hydrate mature skin for a more youthful, radiant & healthy look.
Healthy, firm & radiant skin as you age.
RADIATE PURE BEAUTY AND HAPPINESS AS YOU AGE WITH ONE QUICK, 5-MINUTE APPLICATION.
Every woman wants to look and feel great as she ages. For that reason, all three NOOMI products are designed to maintain your skin's health, while increasing firmness, tone, volume and radiance - the natural way!
Start with our luxurious handmade Eye Serum & Cream in one to reduce under eye puffiness and dark circles. Then apply BirchTech Hybrid to restore firmness to your face and neck with 100% natural ingredients freshly harvested from organic-certified nordic forests. Finally add a few drops of Wild Blue, our magical freshly pressed blueberry oil to moisturize, protect and nourish your skin.
The result? Firmer, plumper and healthier looking skin in less than 5 minutes/day.
What are people saying about the natural skincare set for mature skin?
★ ★ ★ ★ ★
"It feels luxurious and leaves my skin feeling so soft, smooth and nourished. I look forward to my skin care routine using this product along with other NOOMI products! I also love that all of the ingredients are pure and natural ✨Fast delivery to the US!"
— Karen G., NOOMI Customer
★ ★ ★ ★ ★
"I have used these products for several years and I am very satisfied with the results. Started when my menopausal symptoms became worse and affected my skin badly. It is unrealistic to expect any product to reverse years of neglect, but consistent use has greatly delayed the aging process for me. I am 55, and most people think I am in my mid 40's."
— Leslie Ann., NOOMI Customer
10/10 would recommend
This brand is amazing it has done wonders for my skin. I highly recommend. Make sure you stick to the process though - took a couple days to see improvement, but after using it for a month, my skin feels so smooth and looks amazing. 10/10 will continue to buy this brand. I love the natural, clean ingredients they are using.
Natural skincare that delivers
I purchased this after seeing it recommended in several online review for top anti-wrinkle products. It had retinol in it which is actually scientifically proven to work. I didn't want the prescription strength because of my sensitive skin plus I prefer natural skincare products. I gave this several months to see results. After using it for 4 months, I am seeing a huge difference in the wrinkles on my forehead and around my mouth. I'm 58 and have crazy sensitive, combination skin so facial care products can take me forever to find a good fit. I usually use really high end products but found this to have even better results.
Love!
I love these skincare products! It has minimized my pores and given my face a youthful glow! highly recommend!
Clean beauty
I was surprised how much I love every product in this set. Great way to try them. Love the clean, fresh ingredients.
Awesome products!
Improves texture of my skin lessens the look of fine lines
© Copyright. All right reserved.