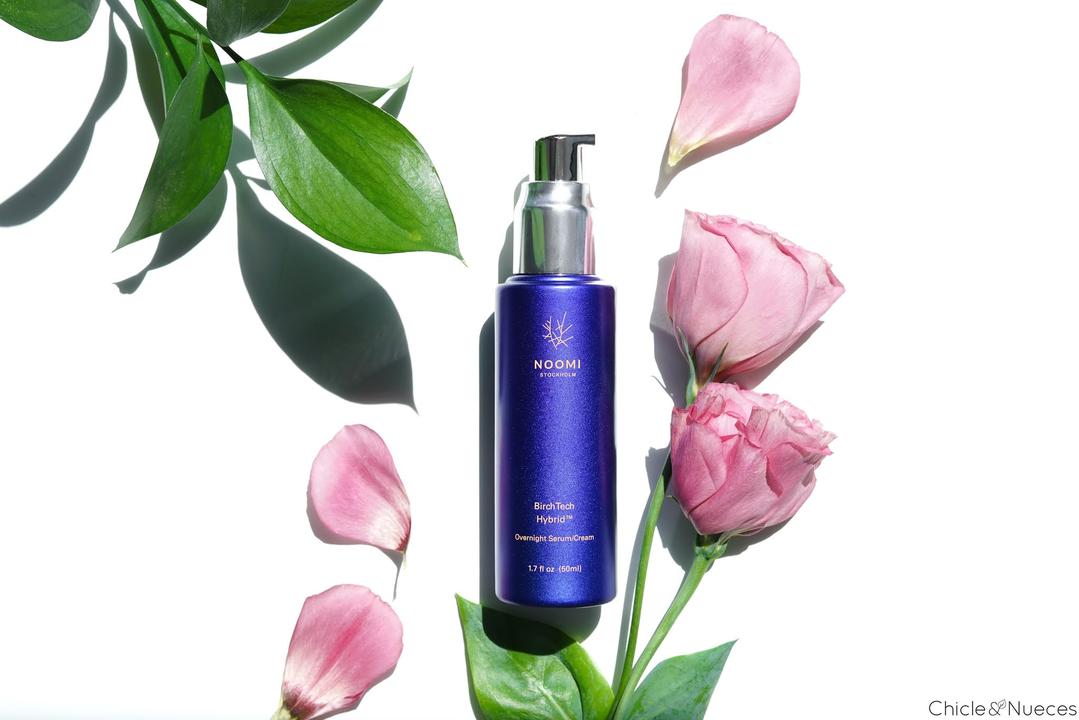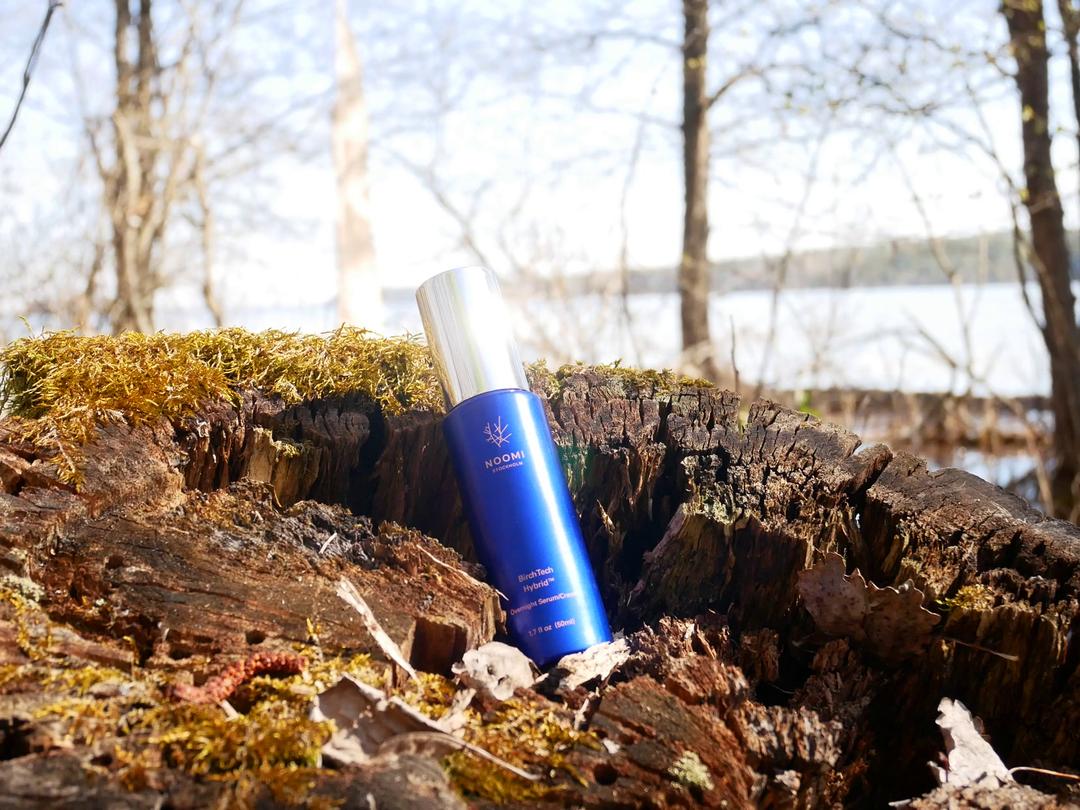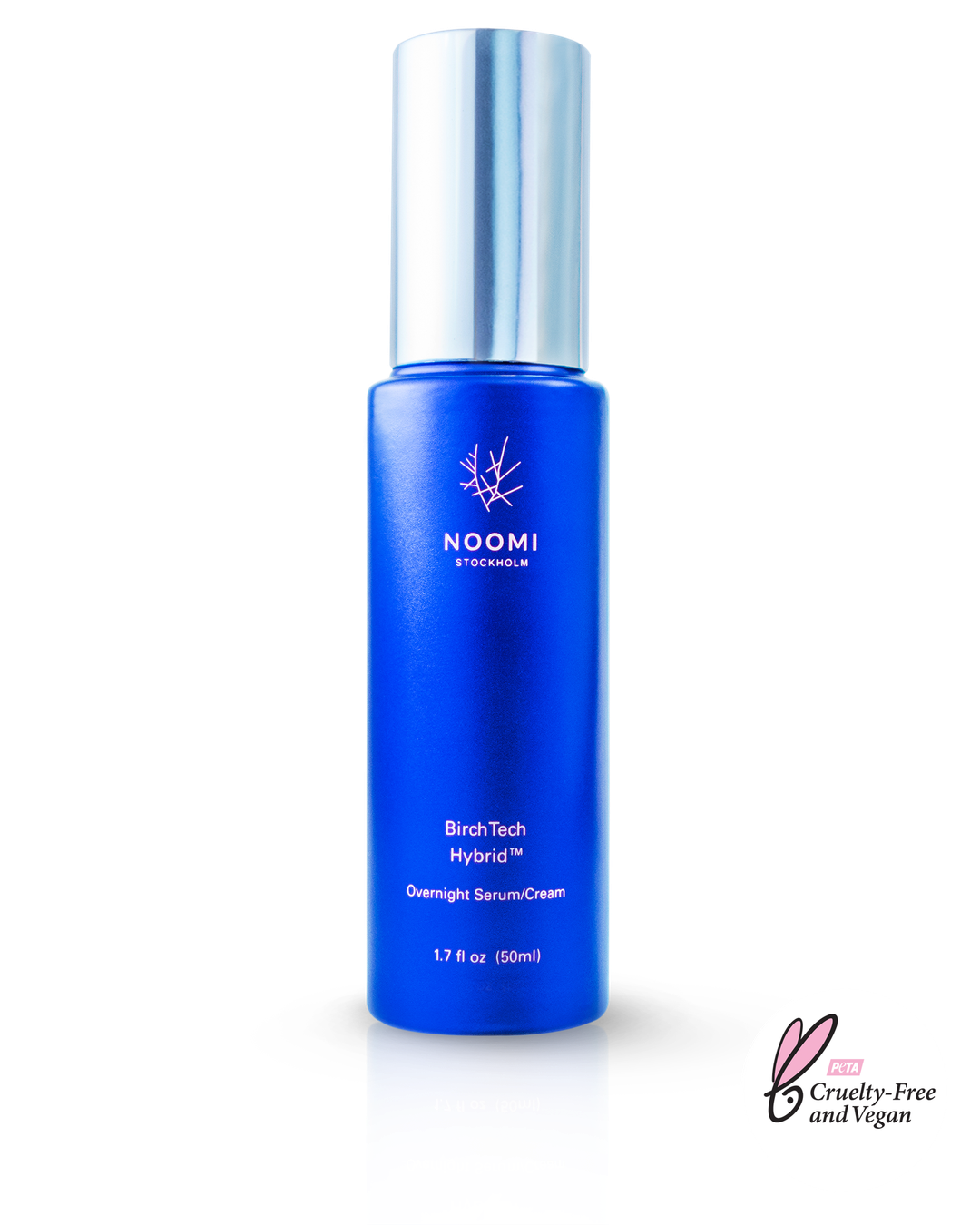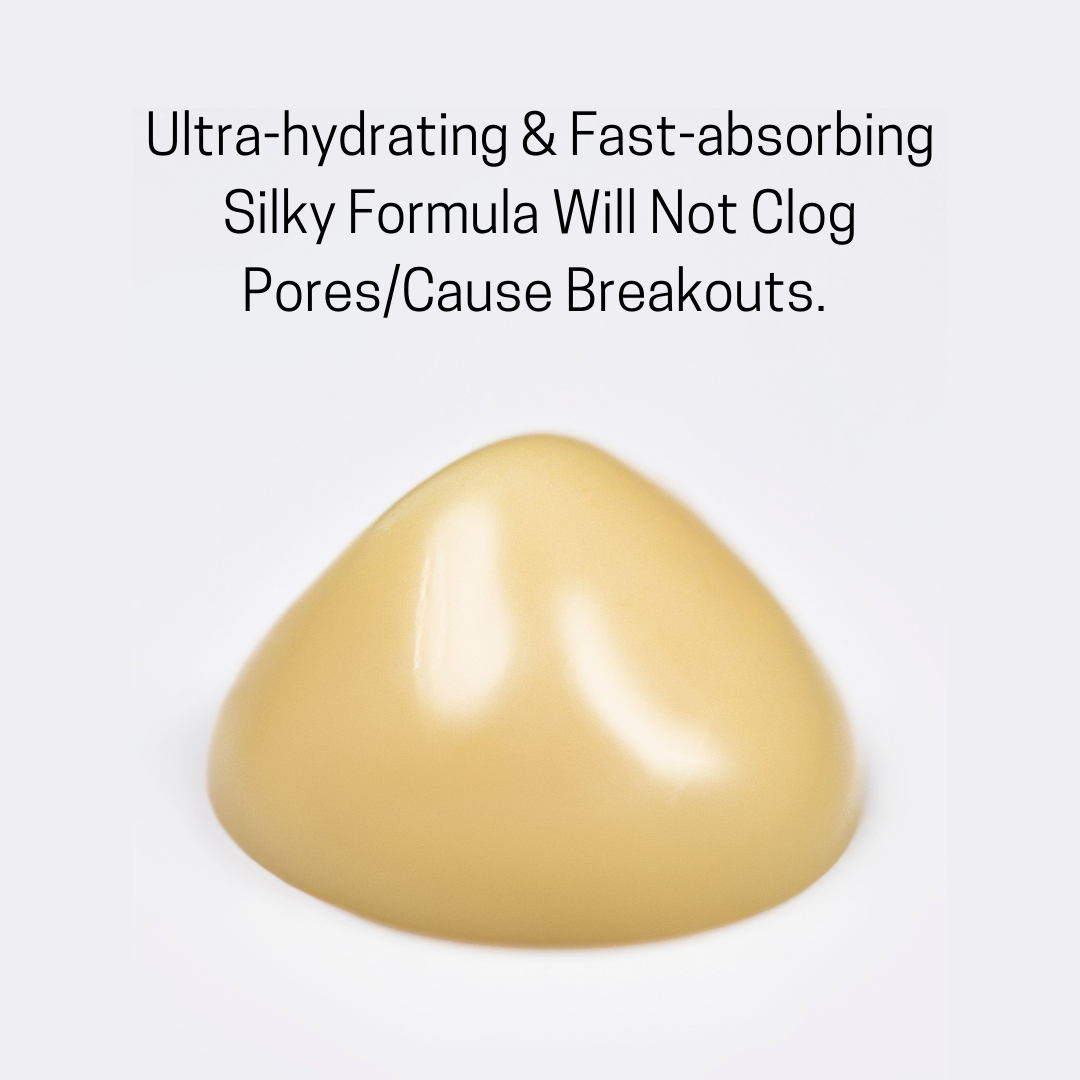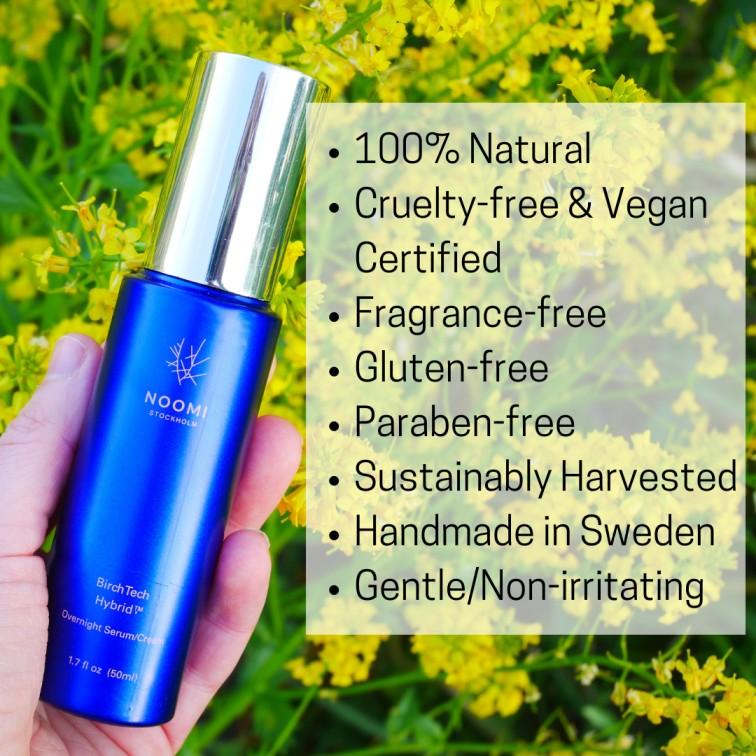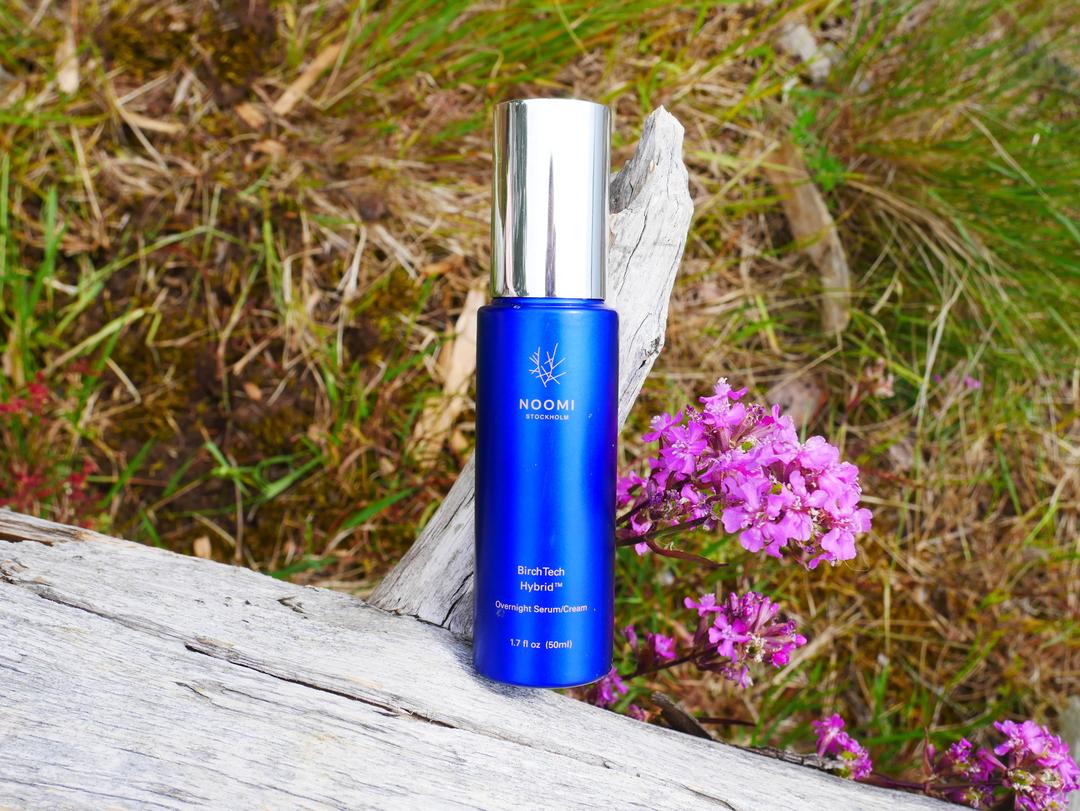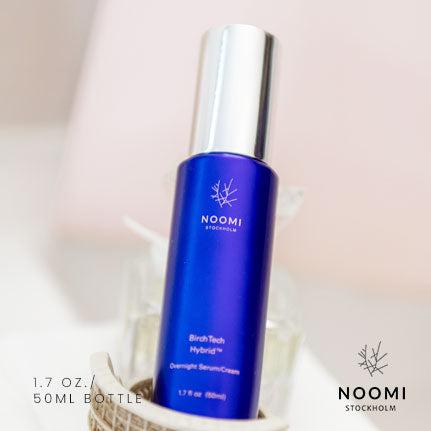 Our most luxurious, handmade product: a waterless pressed serum and fast-absorbing moisturizer in one that provides a plump, firm and glowing complexion overnight.
Suitable for skin concerns: Loss of elasticity/firmness, facial & neck wrinkles, age spots and dryness.
Made in small fresh batches with natural ingredients and therefore available in limited quantities.
(🇸🇪 Made in Sweden - Free Shipping Worldwide)
Pay Now or Later With Klarna or Paypal
30 DAY MONEY-BACK GUARANTEE


Our most luxurious, handmade product: a waterless pressed serum and fast-absorbing moisturizer in one that provides a plump, firm and glowing complexion overnight.
Suitable for skin concerns: Loss of elasticity/firmness, facial & neck wrinkles, age spots and dryness.
Made in small fresh batches with natural ingredients and therefore available in limited quantities.
WATERLESS NATURAL BEAUTY MADE FOR MATURE SKIN
At NOOMI Stockholm™ we know that mature, aging skin needs to be treated differently.
As we age our skin needs more help to look and feel healthy again. Yet it can't tolerate endless products and layering.
That's why we made Birchtech Hybrid. Our all-in-one treatment replaces your cream, serum and eye care product with just a simple step before bedtime.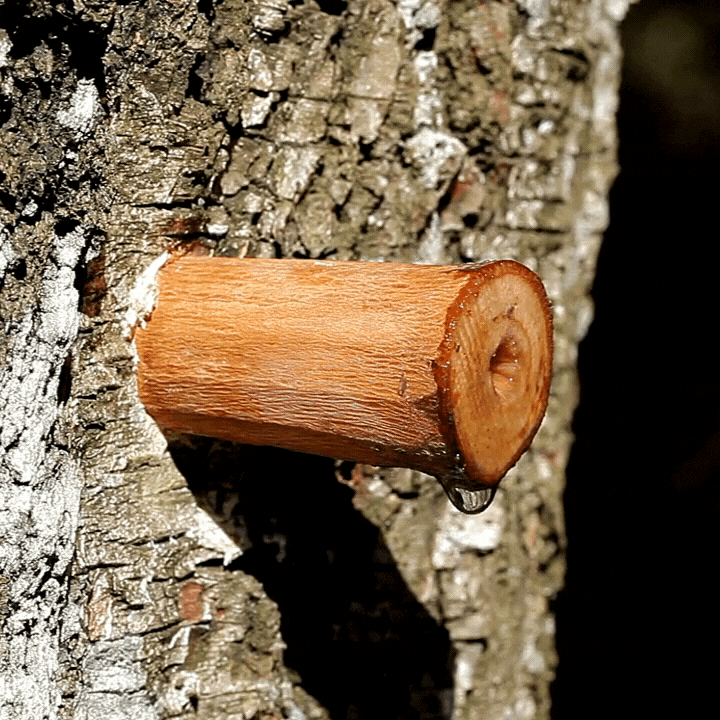 55% ORGANIC SWEDISH BIRCH SAP BASE
Swedish Birch Sap is a rare water substitute that's rich in antioxidants, vitamins, minerals, amino acids as well as a host of enzymes that

help to strengthen & repair your skin.
BirchSap

is only collected 1-2 months throughout the year when the ingredients are at their peak and most active after the cold winter season.
F

or this reason, BirchTech Hybrid™ is only available in smaller quantities depending on the amount of natural ingredients collected.
GMO
TOXINS
FILLERS
ARTIFICIAL COLORS
ARTIFICIAL FRAGRANCES
SYNTHETIC CHEMICALS
What are women saying about this serum/cream?
"WORTH THE PRICE"
"The first time I used this I saw significant results.
My skin feels much smoother

and my

wrinkles appear to be reduced by at least 50%.

I know it might feel expensive but based on the results and the fact that it replaces so many products

I think it's a no-brainer

. Will definitely continue to use it."

—Laura Miller, Age 62.
"FINALLY SOMETHING THAT WORKS."
"I have spent hundreds on firming creams and serums. This by far has been the only product where

I can not

only

see improvements, but I can feel it! My skin is smoother with fewer wrinkles, and PLUMP! My

neck sagging is definitely also improving.

Throwing my scarf away!"


—Susan Walker, Age 58.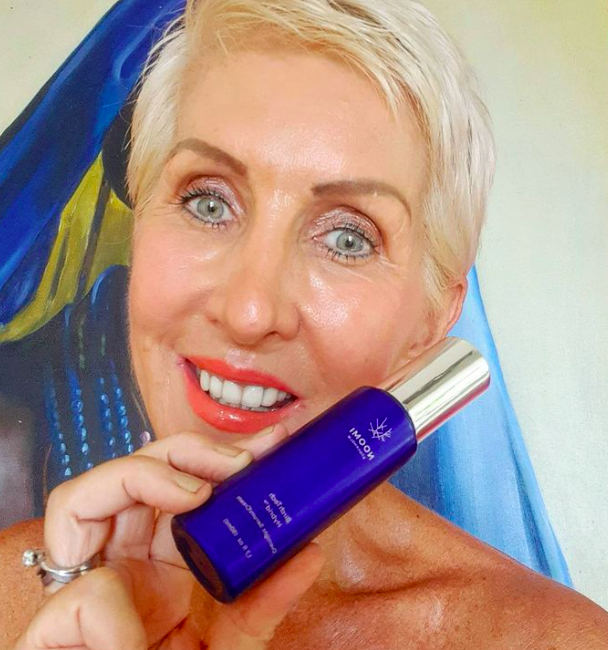 "LOVE IT. IT'S BEAUTY SLEEP IN A BOTTLE."
It's minimalistic. I don't need to use a separate eye cream under my eyes. This does everything for me. And I must admit, the benefits I'm getting from NOOMI at 64 is my skin is so much plumper and it feels so much tighter around my jawline. It's like magic in a bottle to me. I am really choosy, it has to be something that works and is affordable for the average woman.

—Sheila K, Age 64., Customer
"I HAVE NOTICED A MUCH MORE PLUMP AND DEWY LOOK ON MY SKIN."

It's just like somebody took a little recipe book and thought of everything great you can do to make your skin instantly look better especially mature skin. Since I have been using this product I feel like I have dropped about five years."
—Annelise H., Customer
One Simple Application Before Bedtime
HOW TO USE BIRCHTECH HYBRID
Simply apply 1-2 pumps to the face and neck after cleansing before bedtime. It's also safe to use under your eyes. No additional products are needed. For daytime, we recommend following with a broad-spectrum sunscreen rated SPF 20 or greater.

For a detailed application process,

watch the step-by-step demo above with the wonderful Sheila Kiss.
30-Day Guarantee Included
TRY IT RISK-FREE WITH A 30-DAY GUARANTEE
We want you to be happy with your purchase.
Therefore all of our products come with

NOOMI's 30-Day Guarantee.
This means you can buy them and try them. And if anything isn't right for you, just return it within 30 days and you will receive a full refund - even if the bottle is opened.
Just get in touch with us on our

live chat or send us an email

at hello@noomistockholm.com and we will assist you as soon as possible.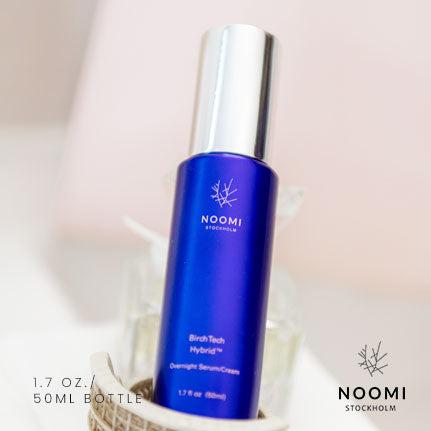 Frequently Asked Questions
1. How Long Will One Bottle Last?

One bottle contains 1.69 fl oz/50ml formula and will last for around 3-4 months if used consistently.




Since the natural and active ingredients are protected by a dark glass bottle you can however use the product up to a year after the purchase date. It's also safe to store the bottle in the fridge to keep the freshness of the formula intact for longer.

2. I Live In the US. How Long Before My Order Arrives?

We always make products fresh based on the natural ingredients we manage to harvest. We will process and make your order within 1-2 business days. Standard US shipping time is 4-8 business days. Express delivery is only 1-4 business days. With express delivery, you can always expect to have your products within a week.




US Shipping alternatives:

Standard Shipping Flat Rate (4-8 Business Days): $4.95 on orders under $50. Otherwise free.

DHL Express Easy (1-4 Business Days): $9.99 on orders under $80. Otherwise free.




You will always get a tracking number when the order is shipped out. If any concerns kindly contact us by email or live chat.

3. What Results Can I Expect?

While everyone's skin is different and results may vary, we have crafted some general guidelines on what you can expect by using this product below. The guidelines are based on clinical trials of the ingredients, efficacy testing, and feedback from actual customers.




Within 24 hours of using this cream/serum hybrid you will feel its increased hydration effects. Your skin will feel and look plumper, well-rested with a new radiance in the morning.




After 4 weeks of religiously using it you'll notice your fine lines are beginning to fade and any darkened areas, hyperpigmentation and age spots have started to fade as well. Your skill will also gradually get stronger as the skin barrier is repaired.




And after 1 bottle (2-3 months) you'll notice your wrinkle depths have decreased, your skin feels and looks fuller & more firm and clearer with less age spots and discoloration.




TIP: While you may notice a tightening effect in the beginning, it can take several months to produce new healthy collagen which is completely normal. This aligns with what we hear from customers, with the best results appearing from the 6-12 week mark. It's important that you are consistent with usage and use SPF (Min 30) during the day since UV rays break down the collagen fibers thus may counteract the effect. BirchTech Hybrid also helps to preserve collagen and slow down collagen degradation. Overall, We encourage a healthy lifestyle with a clean diet, high water intake and exercise to get the best results while using BirchTech Hybrid. Skin looks and feels the best with a holistic approach.




Example Results From Actual Customers (before/after):




Image 1 (Top): 2-week result. Customer experienced smoother, softer and healthier-looking skin. Fine lines on the forehead and around the eyes are less visible. Dark under-eye circles appear to be reduced.




Image 2 (Middle): 6-week result. Customer saw a significant difference in her skin and noticed fine lines and wrinkles were a lot less noticeable and smoothed out.




Image 3 (Bottom): 9-week result. Customer experienced a tightening and firming effect, especially around her jawline and neck, while noticing deep lines around her mouth becoming less apparent.

4. What Makes BirchTech Hybrid Unique Compared To Other Products?

We want to give you an honest, thorough explanation of our pricing philosophy for BirchTech Hybrid and how it's different so you can feel comfortable making a decision about purchasing it for you, or for someone you care about.




BirchTech Hybrid was originally developed and formulated in Sweden for the specific skin needs of mature skin. Since our primary goal is to find a solution to different skin problems that come as you age, our only focus is finding high-performing, natural ingredients that would yield the most dramatic results for your skin.




These ingredients are a lot more expensive than mass-produced, lower-quality alternatives but they are a lot more effective, and most importantly: they are healthy and safe for you and your skin.




All products are handmade in small, fresh batches which require a lot of manual work. Our ingredients are picked and harvested by hand in the Nordic forests often just days before formulation.




Each bottle is hand-poured in recyclable non-toxic glass bottles and housed in 100% biodegradable packaging. Our mission is to give you the freshest, purest products possible when the active ingredients are at their peak & the most effective for your skin.


So, we stand by our promise to you; that we will never, ever mass-produce anything. Therefore, our products will never be sold in any retail stores, where there is a risk they will stand on a shelf for several months before ending up in your bathroom cabinet. BirchTech Hybrid will therefore only be produced in limited quantities, but we are doing our best to keep up with the demand from our customers.




Furthermore, most skincare products on the market contain 80-90% regular water, which has no benefit to your skin. Therefore, you're paying a lot for just water when purchasing these beauty products.




We are a waterless company because we believe every single ingredient needs to serve a purpose for your skin. We replace the water in our formulas with only active, natural ingredients that are truly beneficial and make a difference for your skin.




All of these steps make the formula a lot more expensive to make compared to similar mass-produced and water-downed products. However, since BirchTech Hybrid is a lot more potent, and therefore effective for your skin's different needs, you will not need any additional products in your routine.




If you look at it this way, you're getting a lot of value from one bottle, because it lasts for a long time, it addresses many skin concerns, and you can replace your entire nighttime routine with it so you don't need to buy anything else. In the end, it will rather save you both time and money.




We hope you believe as much as we do in filler-free and high-quality organic skincare that delivers on their promises for results while being simple, and easy to use. We are always open to questions, discussion, and conversation - feel free to always reach out to us if you need any further information about this or anything else.

5. What's The Full Ingredient List?

At NOOMI we want to be as transparent about our ingredients for you as possible. We present the full ingredient list below. If you have any questions about any of the ingredients feel free to contact us.




Most of the ingredients are sustainably Harvested in our local forests in Sweden without harming the biodiversity according to Fair Trade Principles. 100% of ingredients are coming from natural sources.




FULL INGREDIENT LIST:

Betula bendula sap (birch sap), Avena sativa kernel oil (oat), Glycerine (natural humectant), Olea europa (olive) fruit oil, Butyrospermum (Shea butter), Rhodiola Rosea (Rose) root extract, Inonotus obliquus extract (Chaga), Parkii butter, Caprylic/capric triglycerides (Organic emollient), Diheptyl succinate(Organic emollient), Cetearyl olivate (Organic emulsifier), Sorbitan oleate (Organic emulsifier), Rubus Chamaemorus fruit extract (Cloudberry), Rosa canina (Rose) flower extract, Cetyl alcohol (natural emollient), Stearic acid, Persea gratissima (Avocado) oil, Sodium Hyaluronate, Hippophae Rhamnoides seed oil (Sea buckthorn), Anthemis nobilis flower oil (Chamomile), Xanthan gum (Natural stabilizer), Capryloyl glycerin/sebacic acid copolymer, Tocopherol (Vitamin E), Retinol, Ascorbic acid, Vaccinium Vitis ideae fruit extract (Lingonberry), Sodium benzoate, Potassium sorbate.

6. Is This Product Gentle Enough For My Dry & Mature Skin?

We have customized this formula for the specific needs of your mature, aging skin. At this stage, you might have noticed that your skin feels a lot drier, and at times even irritated.

Since we want you to experience the effectiveness of the formula without having to worry about irritation or breakouts. We have taken the following steps with BirchTech Hybrid:




It contains

no irritants

including perfume or colorants. The scent is coming from real organic extracts.
We add an

extra high concentration of soothing and hydrating ingredients

including hyaluronic acid, organic glycerin, fatty acids, and more.

We Remove all the water and infuse it with a 55% birch sap

concentrate that contains minerals, antioxidants, amino acids, and more to strengthen and nourish your skin.
We make the formula texture

lightweight, fast-absorbing, and comfortable

so it will not clog pores or cause breakouts.
We use only a

time-released Retinol

which means it will gently penetrate your skin while you sleep without causing any irritation.
We carefully choose only

the best, highest-quality ingredients

that are safe for you and your skin.




As you can see we take all the measures to make BirchTech Hybrid safe and non-irritating. If you still feel unsure, you can perform a patch test. Simply apply the product as directed to a small area and leave it on for 24 hours. If no irritation can be seen you can use it as directed.

7. Is BirchTech Hybrid Tested On Animals Or Contains Animal-derived Ingredients?

No, we do never test any of our products on animals or include animal-derived ingredients in the formulas. We take a big stand against animal cruelty of any sort.


We are certified cruelty-free & vegan by the PETA organization. NOOMI Stockholm is verified by The Beauty Without Bunnies program and can be found here: https://crueltyfree.peta.org/company/noomi-stockholm/


8. Is BirchTech Hybrid For All Skin Types?

Yes! BirchTech Hybrid's ingredients work for oily, dry and combination skin. The unique formula texture is super-hydrating yet light-weight and will not clog pores or cause breakouts. If you have sensitive skin, check FAQ number 4!

9. Can I Use BirchTech Hybrid Together With Other Products?

BirchTech Hybrid is developed to work on its own but you can use it together with your other favorite products if you wish. However, be careful mixing it with other retinoid products to avoid side effects like irritation and dryness.




TIP: We always recommend not using too many products in your regimen to avoid overwhelming your skin. Mature skin needs a complex variety of ingredients, however applying or layering products on top of each other can easily lead to irritation, clogged pores and sensitivity issues. This can especially accelerate after menopause when your skin is more prone to breakouts, dry and sensitive due to estrogen loss. Therefore we recommend a "less is more" approach when it comes to skincare after 50.




If you want some extra protection and hydration we highly recommend pairing BirchTech Hybrid with Wild-Blue Elixir for a simple 2-step routine before bed.
Awsome Product
I have "mature", dry skin and was skeptical since this was new to me. I always use a serum and then night cream BUT this works just like both!. I am very happy and will definitely be reordering!
Love this Serum!
I love this serum! It works around my eyes without causing any irritation and makes my skin feel soft. I'm only 2 weeks in and looking forward to seeing the effects after using it for a while
Great product
Worth the price! Lasts forever..I've been using mine for almost 5 months and there is still some left. Love the clean and natural ingredients and the fact that it's made fresh.
Luxury for my skin
This is my favorite product and different from other face moisturizers I have used…It's light but still very nourishing. I especially like it for those little annoying lines around the eyes, mouth and forehead.
AMAZING PRODUCT!
I absolutely love my NOOMI products. Pricey?? Yes. Worth it? Every penny. My skin feels like silk and looks hydrated from the inside.