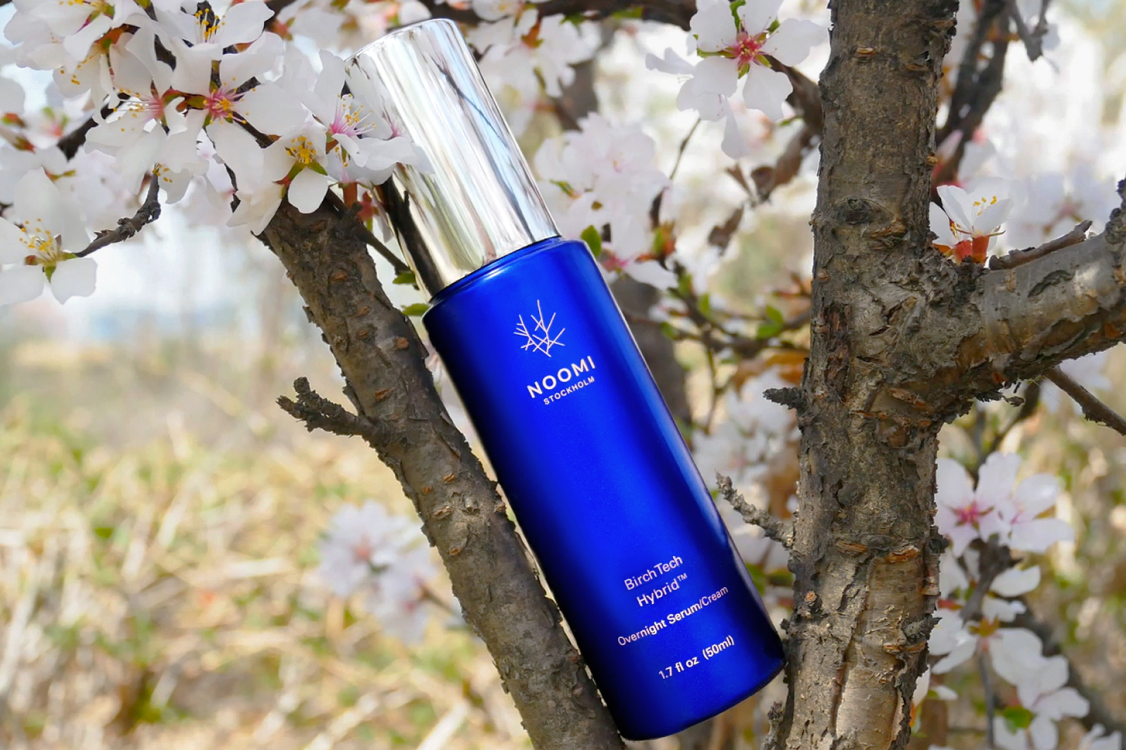 AGE BEAUTIFULLY
High-performance serum/cream concentrate restores your skin's youthful glow and renews its natural firmness. Powered by rare botanicals harvested in the pristine Scandinavian forests.
LEARN MORE
Introducing the nordic chaga elixir
A vital component of a holistic beauty routine formulated to nourish and rejuvenate the skin from within. This elixir is specifically designed to combat signs of aging, such as wrinkles, sagging skin, and hair loss.
Discover our newest elixir
Nordic Lappland, North Sweden
Precious, potent botanicals from the world's largest organic-certified forest.
100% Natural
Wild-Harvested
Sustainably Sourced
Discover our natural ingredients

Great results!
I am a 62 year old Plein aire painter from the US and spend a lot of time outdoors. My skin is exposed to the weather a lot, and despite wearing sunscreen, I need to replenish and heal my skin overnight, every night. Noomi BirchTech Hybrid Overnight Serum easily does that for me, and I am pleased with the results. I cleanse my face at bedtime, apply the serum, and I'm done; it's easy. My skin has improved in tone over two months, and age spots have faded. As a bonus, Noomi has great customer service!

Great products!
These product are absolutely fabulous. A little goes a long way and they help smooth out my wrinkles around my eyes, forehead and mouth. This makes me feel and look younger and gives me more confidence in my skin. It is expensive but I think it's good value for money. You definitely get what you pay for in this world. I just love the Swedish ingredients and their clean beauty philosphy. I will keep repurchasing since I love the results I get from this brand.

SIMPLY THE BEST!
I'm a HUGE fan of BirchTech Hybrid Overnight Serum/Cream! It's not just a treat but it really works wonders for my skin! My beautician always compliments me on how my skin looks and feels: smooth, hydrated and plumped. This product will always be my holy grail and I really look forward to similar body products from the same line!

IT WORKS!
I have seriously used just about every product on the market and even found the super pricey La Mer to not work for me. I am 44 with semi-sensitive combination skin..starting to see some sagging especially around my jawline and some fine lines under my eyes..have some sun spots but nothing terrible. I have used Bt hybrid along with their facial oil and it is transforming my skin. No irritation..just super soft, smooth skin. Softened facial creases, especially forehead lines and crow's feet. Faded my stubborn age spots and my jawline appears firmer. My skin is more plumped, radiant and healthy-looking.
The Beauty of Waterless Beauty
We stand for potency, efficacy & kindness. That's why we formulate with 55% Nordic Birch Sap.
Each high-tech active is enveloped in this calming, nutrient-packed elixir—keeping fillers out & saving water for communities that need it most.

Discover our waterless philosophy
POPULAR ON THE NOOMI BLOG
Sheila Kiss, age 64, on how to age beautifully and why you need a different beauty routine as you age.
Read more